Leaving My Legacy
by Alex Gonsalves, Stevinson, CA

My name is Alex Gonsalves, and I am 37 years old. I have been married to my wife Melissa for 14 years, and we have a son, Xander (11), and a daughter, Julia (10). I was born and raised in the North Grasslands and have chosen to raise my family here too. In 1998 I became a member of California Waterfowl through the North Grasslands Dinner, and I volunteered for the first 10 years of the dinner.

I've been committed to California Waterfowl's mission since that first dinner more than 14 years ago, and I decided I wanted to do more. My employer offers a life insurance policy to all employees, and I have named California Waterfowl as the full beneficiary of that policy. I have also named California Waterfowl as a beneficiary in my trust.

In order to help others understand why I've chosen to give to California Waterfowl, I guess it all starts with thinking about what it takes to get a kid to start hunting ducks and geese. It takes a very dedicated parent, friend, family member, or mentor to train, explain, show, tell, laugh, cry, sleep in trucks, sleep in tents, wait in refuge lines, practice calling, and explain waterfowl management, habitat, and biology. Then there is access to property to hunt on, which can be difficult. There's public property, which can be good, but it usually takes lots of extra effort and work that may discourage the little ones. I enjoy getting kids out on our club, my ranch, and other private property that I have access to and showing them what a great time it is and sharing memories. All of these efforts stay with young people for life: their excitement for the hunt, seeing all the birds, and being with the grown-ups. To hear the kids tell stories to their buddies at school or baseball practice about taking a limit of white fronts, or the mallard that they called in and landed, or the teal and all the noise they make when they are moving through the fog. All of these things are efforts I can share and help with while I am alive - and will continue to do so until I just can't anymore – but I want to make sure someone will still make the effort after I'm gone.

So I've decided to leave some money to California Waterfowl's youth programs in trust that George and Jeff * will hold to their end of the bargain (which they will) and continue introducing youth into the world of waterfowl hunting, teaching them to be ethical and responsible people, and showing them how to be safe while doing it. Hopefully those little guys, who go through California Waterfowl's youth hunting programs, will become lifelong outdoorsmen and women, and they will not forget WHO and HOW they got started. My hope is to inspire those youth to one day get involved in another little guy's life and get him or her involved in California Waterfowl's program, and from there it snowballs over and over again. It is a Legacy. That's what I want to leave, and California Waterfowl can and will help.

When it comes to giving, my motto has always been that you have to give until it hurts. That's when you know you have given the right amount. Life insurance policies are more affordable than you might think. And if you already have one, why not pay a little extra each month for a bigger policy and leave a chunk of it to California Waterfowl's youth program? It will be part of your legacy forever. To me, it's a simple idea that all of us should be doing.

My insurance company recently contacted me to film a documentary about my life and my insurance policy. One of their questions was, "If you could buy a bigger policy now would you"? My answer was absolutely; then I could have given even more to California Waterfowl and the other loved ones to whom I am leaving gifts.

*George Oberstadt is the Heritage Programs Supervisor and can be reached at (916) 275-0961. Jeff Smith is the Hunt Program Coordinator and can be reached at (530) 305-9234.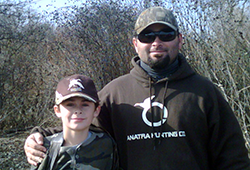 Photo courtesy of the author