A Passion to Preserve Using Pour-over Wills
by Katie McCarty, Development Specialist

In early Spring I had the opportunity to talk with George T. Kammerer, III,past Chairman of the Board of California Waterfowl and Board member for 18 years. Kammerer, a Life Benefactor, first joined California Waterfowl in 1984. Since that time he has participated in many facets of the organization, including overseeing all fundraising events statewide as the first Director of Fundraising, volunteering with the Wood Duck Program since 1985, defending anti-hunting attacks as California Waterfowl's General Counsel, and currently serving on the Past Chairs Advisory Committee.

Kammerer's passion for California Waterfowl stretches beyond his volunteering. Using a combination of pour over wills and trusts,he and his wife, Carolyn, have several nonprofit conservation organizations set up as beneficiaries, including The Nature Conservancy, Mzuri Wildlife Foundation, Safari Club International, National Rifle Association,and California Waterfowl. George shared that, "Our bequest to California Waterfowl is our largest and - if the stock market holds -should remain a six-figure amount when we leave the duck blind for the last time."

When I asked Kammerer if he had anything else he would like to share with other California Waterfowl members, he had this to say:

I cannot say enough good things about California Waterfowl and its unwavering mission all these years with all that the organization has accomplished, and continues to accomplish, to protect and improve waterfowling in California and the Pacific Flyway. I extend great encouragement to all waterfowlers to donate to California Waterfowlat the highest levels possible based upon their financial abilities, and to be sure to include a substantial planned monetary gift to California Waterfowl in their wills and trusts, or by way of real estate, stocks, annuities, or other business investments. All of these gifts which grow California Waterfowl's Hunting Heritage Fund and other endowments, provide critical funds which are maintained, invested andincrease over time to support and expand California Waterfowl's programs for decades to come.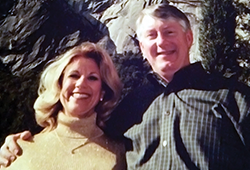 Photo by George T. Kammerer, III